We all miss aspects of our lives which are things of the past. You know how I miss steam on the railways, but we have to face the reality. It was too expensive to operate. The subject of cinemas brings almost a tear to me when I have stood watching a cinema organ being taken out to be scrapped.

There are about two hundred left now in the world, thats all. Only half a dozen of them are in their original building. Nowadays, I am lucky to find an organ in a church, as they are being scrapped at the same rate of knots. The organ in the Gaumont was similar to this in my pic, does anyone have any cinema organ pics from Coventry? The fact is that they are expensive to maintain, so they have to go. I have to face the facts, but it is very hard.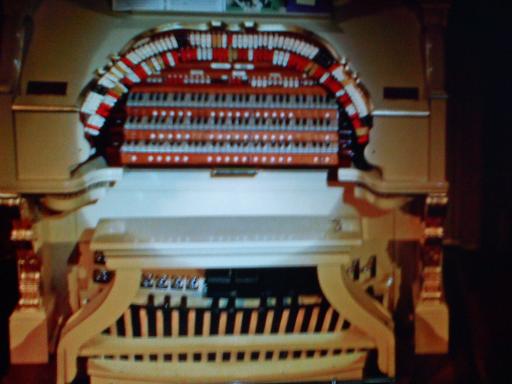 Just to explain, the cinema organs produced their sound from pipes, the same as a classical church organ, but in addition had a range of other instruments attached, all operated from the organ console by the organist. What you see in the photo is just the console. The body of the organ is elsewhere in the building, that's why they are so expensive to maintain. They are not just 'razamatazz' instruments. I tell you, to listen to one of the classical organists like Welsh born Dr. Carole Williams, or Jelani Eddington playing any of the great classical orchestrals, maybe with the accompaniment of classical pianist is nearly a wonder of the world. There are some examples on YouTube.